Your best source for help is always Preference Pools & Spas, your local BioGuard dealer. Our certified water care specialists are here to provide you with expert assistance and peace of mind in the everyday care of your pool and spa. Armed with the most technologically advanced SmartLab testing and the superior quality of BioGuard and SpaGuard products, we can help assure sparkling water when you want it. 
Bring us in a water sample of your water into our store today.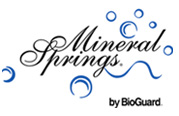 The BioGuard Tru•Blue Promise™ Program
The exclusive BioGuard Tru•Blue Promise program is available through Preference Pools & Spas. With this Promise, we'll be sure you're using quality products designed for ultimate prevention, that you're using them properly and that you're testing your water with the most in-depth analysis available.
By using our proven products and following our advice, the chances of algae or cloudy water are dramatically reduced and you'll have spectacular looking water all season long. But the best part is that if you're loyal to the Promise and you still end up with algae or cloudy water, we'll give you everything you need to fix it for FREE.
Now that's peace of mind that ensures you'll never miss a moment again in your pool. Contact us or stop by to learn exactly how the program works.