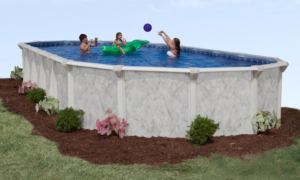 Due to supply issues from COVID-19 restrictions, aboveground pool packages have been delayed by our manufacturers. We anticipate aboveground pool packages to be available around September 2020. Contact us if you have any questions.
We proudly carry American-made traditional aboveground pools by Hollowell Industries. Each pool from the standard Seabrooke to the deluxe Astoria to the ultimate Pacifica comes complete with our pool package which includes a 15mil liner, pump, skimmer, sand filter, A-frame ladder, and pool vacuum. The pool is shipped directly to your house at no additional charge.
Seabrooke Package – Starting at $2,358
  – Pool Package with solid blue overlap liner
Astoria Package – Starting at $2,835
  – Pool Package with Marci Gras, printed overlap liner
Pacifica Package – Starting at $3,174
  – Pool Package with Neptune printed, tile-line EZ clip liner
Please contact us for more information.